Are you passionate about cancer care in children, adolescents, and young adults?
We provide oncology-specific ACPE Accredited Continuing Pharmacy Education at your fingertips!
The Children's Oncology Group (COG) recently held their annual fall meeting. If you weren't able to attend live, you now have access to that top-notch pharmacy programming!
Visit the CE Synergy website or link above to participate in 3 hours of enduring courses from the 2020 Hot Topics in Pediatric Oncology. These courses were offered at the 2020 Children's Oncology (COG) Fall Meeting back in September. CE Synergy has assigned up to 3 contact hours (0.30 CEUs) of continuing pharmacy education credit for these application and/or knowledge-based activities. The target audience for this accredited activity is pharmacists. CE Synergy is offering 3 on-demand, web-based activities, which are enduring activities developed from the live sessions.

You may only receive credit for these enduring courses if you did not attend and receive credit for the previous live webinar version offered on September 14, 2020
Home-Study/Enduring: $20 per hour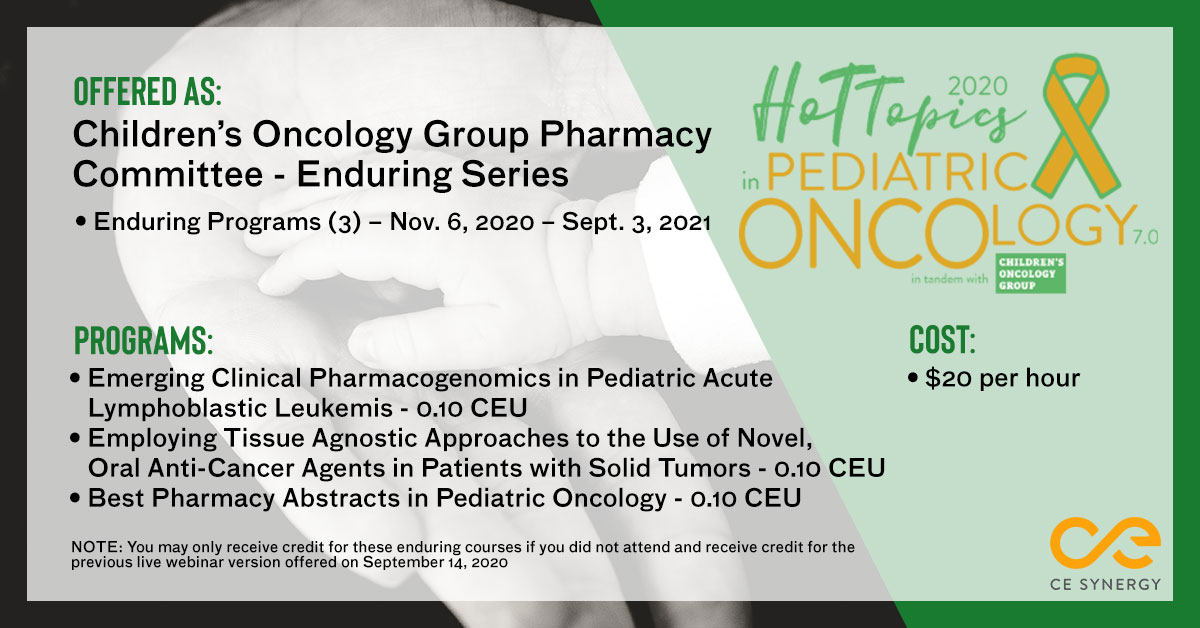 CE Synergy, LLC | Site by Big Picture Digital | Privacy Policy | Cookie Policy | Terms & Conditions | Careers |